By Joshua Bowditch
Architecturally, the Academic Building 9 (AB9) at FGCU is an outstanding example of sustainability in southwest Florida. Sustainability can be defined as eco-friendly, efficient, and resourceful, and in regards to construction can be considered on the basis of building materials, specifically raw materials, supply chain, and characteristics of the end product. The basic components of building materials are geological resources which must be processed to some extent. The AB9 is clad with architectural precast panels by Gate Precast Company and high-performance glass units by Viracon framed by sunshade-integrated curtain wall system by Kawneer.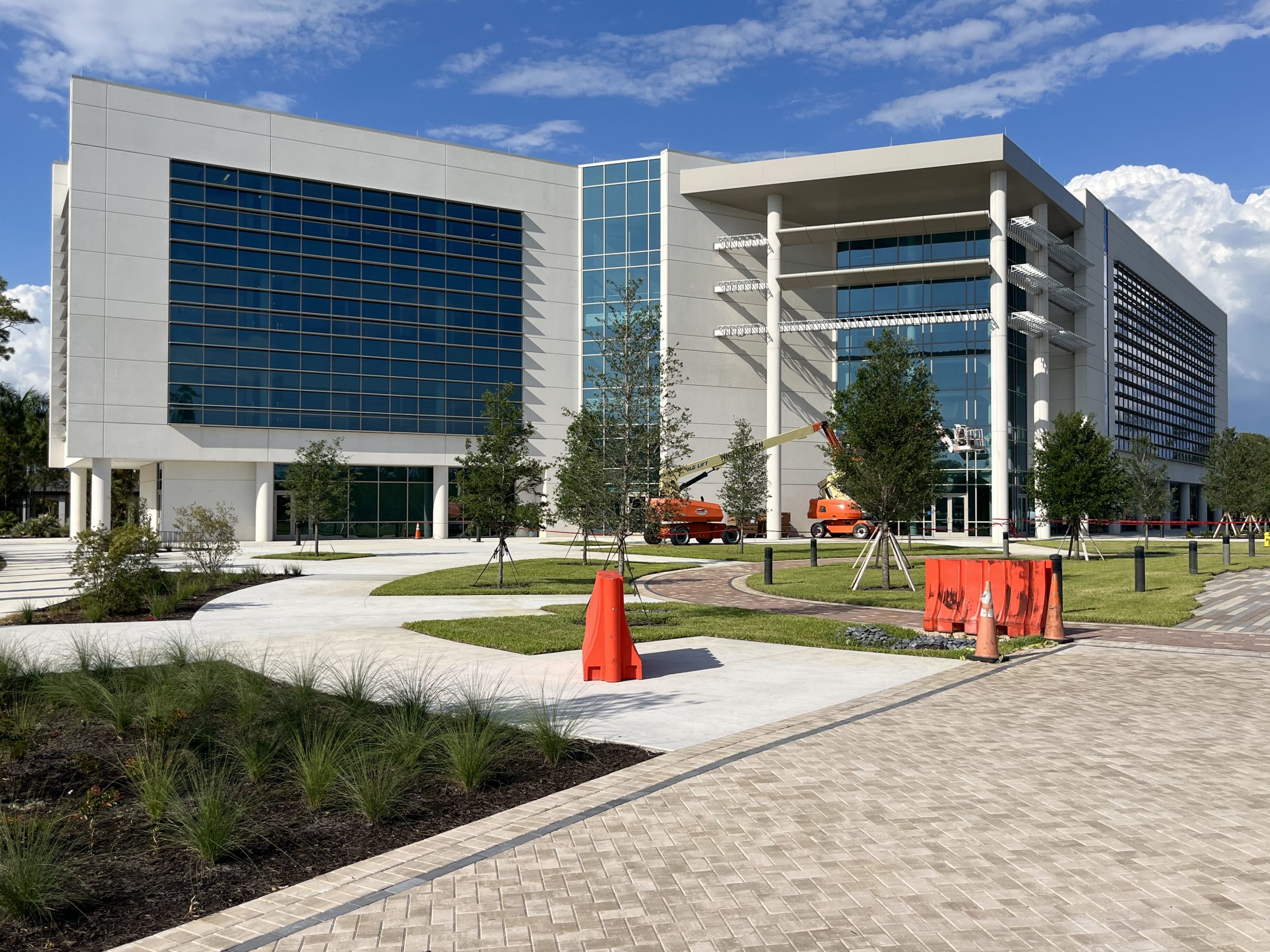 Architectural precast is distinguished by casting method and composition of the concrete. It is well-consolidated concrete with a low water/cement (w/c) ratio, instead of conventional self-consolidating concrete. These factors are made possible by forming the concrete at a controlled environment production facility. The distinctive aspect of low-w/c concrete is impermeability. The implications are controlling infiltration of moisture into the building envelope which is the goal in hot and humid climates, and resistance to weathering and efflorescence. Precast panels are uncoated (unpainted) and as such are aesthetically their inherent coloration. Titanium dioxide is used as white concrete pigment and is photocatalytic, oxidizing with organic and inorganic pollutants, so that the color quality will not diminish over time1. Joints between respective precast panels are sealed by low-modulus silicone sealant. Silicone sealants have excellent resistance to the combined weathering factors of moisture, heat, and UV light2.
The use of architectural precast gives higher value and more sustainable utilization to the constituent materials than conventional types of concrete. These constituent materials are of significant economic interest and environmental concern in the state of Florida. Mining of suitable-quality limestone results in irreversible loss of natural habitats and detrimental impacts to environmentally sensitive surroundings3. Portland cement production is very energy-intensive and a major source of industrial emissions resulting from thermal decomposition of raw materials and combustion of fuels4.
It is obvious that architectural precast is a sustainable building product in Florida conditions. From a construction standpoint, the advantages of architectural precast concrete are simplification of the exterior wall assembly, consolidation of the construction process, and minimizing fallibilities of jobsite labor. In this case the decision was made by FGCU to use architectural precast because of its longevity and minimal long-term maintenance.
The high-performance glass units are 1-5/16" nominal thickness, comprised of three plies of 1/4" glass; specifically, one ply of 1/4" clear glass, plus 1/2" airspace, plus two plies of 1/4" clear glass with a laminate interlayer. At the interior surface of the exterior ply of glass, facing the airspace, is a "VUE-40" coating, which stands for Viracon Ultimate low-E with nominal light transmittance of 40. The term "low-E" refers to reduced emissivity of heat from the glass surface. The low-E technology utilized by Viracon is magnetic sputtering vacuum deposition ("MSVD"), which applies metal atoms onto the glass to form a microscopically thin coating with spectrally selective, infrared reflecting properties. The VUE-40 consists of two microscopic layers of silver plus a microscopic super alloy layer, and has a dominant blue exterior appearance. The glass is conveyed through a coating machine of eight low pressure vacuum chambers where the microscopic layers are applied in sequence5.
The use of expansive glass contributes many sustainable aspects to the project. Glass allows natural light which is not only a light source, but is also psychologically beneficial to the occupants6. The glass, featuring advanced low-e coating technology, is spectrally selective, providing high solar heat control while allowing high visible light transmittance. Glass is produced efficiently from abundant and readily available silica sand. Glass is impermeable, which is an invaluable characteristic in the hot and humid climate.
Aesthetically pleasing as the AB9 may be, these aspects described would be generally unknown. It is publications like this one that can provide representation of these sustainability aspects through description and illustration. That would be the intent of "Architectural Stewardship".
1Architectural Precast Concrete Manual, Third Edition. 2007.  Precast/Prestressed Concrete Institute.
2de Buyl, F.  2001.  Silicone Sealants and Structural Adhesives.  International Journal of Adhesion & Adhesives 21: 411-422.
32009. Final Supplemental Environmental Impact Statement on Rock Mining in the Lake Belt Region of Miami-Dade County, Florida. U.S. Army Corps of Engineers (USACE).
4van Oss, H. G.  2015.  Cement.  Page 16.1-16.32.  In: 2013 Minerals Yearbook.  United States Geological Survey (USGS).
5Stull, R. L., inventor; Apogee Enterprises, Inc., assignee.  Coated Glass Surfaces and Method for Coating a Glass Substrate. US Patent 8,574,718.
6Glass and Energy. Technical Bulletin ATS-116. Pilkington North America, Inc. (NSG Group), 2013-01-14.
6Glass and Energy. Technical Bulletin ATS-116. Pilkington North America, Inc. (NSG Group), 2013-01-14.