A great chef expertly mixes ingredients to achieve heavenly sublime. Dave Rashty succulently achieves this harmonic bliss as the Chef de Cuisine at Jack's Farm to Fork at the Pink Shell Beach Resort & Marina, and as the new President of Slow Food Southwest Florida, the nonprofit organization that promotes good, clean, and fair food.
Slow Food Southwest Florida, the local chapter for Slow Food International that serves Lee and Collier Counties, promotes local growers and chefs by hosting events in their fields, kitchens, and markets. It develops educational programs for students, local produce cooking classes for adults, and caregiver culinary lessons for people caring for the sick or elderly. Its primary fundraising goal is to acquire a teaching food truck its chefs will use on-site for classes, events, and to promote our region's many local markets.
Chef Dave arrived at the Pink Shell just over a year-and-a-half ago to develop and open Jack's Farm to Fork after previously working in Key West and Palm Beach, including owning three food trucks there. After being on the beach just a short while, he realized that "Southwest Florida is an untapped market for healthy eating and its many benefits, and few people were having this important conversation. Almost all restaurants utilize large-scale companies that provide the cheapest yet most unhealthy options; I found just a handful who cook with sustainable products."
He began spreading healthy sustainable options and opinions almost immediately, including that "chefs need to be activists, to preach this Gospel, so to speak! What we put on our plate is just one small feature of the whole picture; we must evolve the entire food stream. We as a species slowly kill ourselves because our diets revolve around commercial production where we slaughter 1,000 cows an hour, then inject the meat with preservatives and chemicals unnatural to our bodies; this is not the way we are built to eat."
A primary concern is Monsanto-type farming, he explains. "We must focus on what we grow and raise. I understand that business model, but a good farmer knows the quality of their soil by the weeds that sprout up; you lose that personal knowledge when tending 5 miles of corn."
Accomplish The Impossible
Chef Dave along with Pink Shell co-owners Jack and Bob Boykin developed Jack's Farm to Fork that opened last January. "Initially they thought I may be a little nuts," recalls Dave with a laugh, "so they brought in as a consultant Wholesome Wave cofounder Michel Nischan, the 3-time James Beard Foundation Award Winner, and the best person to select! He is not only a brilliant chef, but used sustainable products almost before anyone. We discussed a restaurant that would be off the main stream and unique, and with Jacks we accomplished something the owners initially thought impossible: a successful establishment based on sustainable healthy food."
Jack's farm-to-table commitment offers regionally-grown and organic, humanly-raised, and environmentally-conscious food. Its menu lists its various supply partners, including several from Fort Myers like Herban Gardens, Trico Fish Company, and Walker Farms Honey. Another policy is to substantially reduce food waste. "We can feed the world twice over with what we throw away," emphasizes Dave. "We encourage chefs to use every part of the ingredient. Don't just use the chicken breast and throw away the rest, but responsibly prepare the legs, thighs, stock, and other recipes. The ultimate goal is No Waste!"
The restaurant recently lowered prices to reduce menu sticker-shock. "It costs double or more to purchase healthy local options versus mass-produced products," Chef Dave rationalizes. "People do not fully understand why they should pay more for quality meals, yet they shell out thousands for prescriptions to feel better. If they ate properly, many medical issues would disappear and healthy food becomes a bargain. This is the ultimate 'pay me now or pay me later' syndrome."
Connect the Dots
Shortly after Jack's opened, Chef Dave received a call from Nicole Kozak of Circle C Farms. "We spoke on Monday and met there that Wednesday, with a half-dozen of our staff to experience it for themselves. It was awesome! They are so friendly and are experts sustainability-wise. The care they put into their animals is top-notch. This is important to me and not just with Circle C – I personally visit every farm we do business with to ensure they perform to the same high ethical standards."
He met Ken Ryan of Herban Gardens and Chefs Collaborative. "Ken is one of the best growers out there on a small scale, and works with only a dozen or so chefs. His products are remarkable because he cultivates his soil and that is what it is all about; you cannot grow healthy food in unhealthy soil. Ken knows what everyone is doing, then connects the dots. That is what this is all about; pulling all the concepts together."
Chef Dave praises James and Courtney Fraser of "I Care For Food," John Gilcrest and Crush Magazine, Paul Willis of Diamond Ranch who is "a huge supporter and we use a lot of their products," Dan Barber at Third Plate, and Anson Mills, "the anti-Monsanto. They supply seeds to farmers, and reintroduce Heritage Crops like Blue corn that does not grow in miles of fields."
Mark Your Calendar for the Shangri-La Farm Tour & Lunch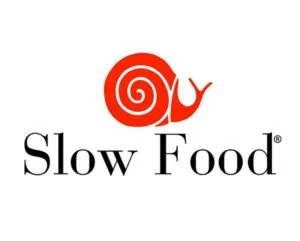 Slow Food board meetings do not end, President Dave states, "unless we have a public event to promote. As such, we have the Shangri-La Farm Tour & Lunch on Sunday, August 28; the Chili Cook Off on Sunday, September 18, at the Shell Factory; and Jack's Trash Fish Dinner with co-partner Monterey Bay Aquarium's Seafood Watch Program on Sunday, October 23. "Trash fish can be delicious. They are caught with marketable species, but tossed aside because humans mainly prefer only about 10 varieties, like grouper, tuna, and salmon. An excellent example is the Tile fish: not long ago it was trash; now it sells for $17-a-pound!"
Fundraisers are crucial because the immediate goal is to acquire a food truck for a mobile incubator sustainable kitchen. "We can say to chefs and students: 'Come and test your concept – Asian, Italian, whatever,'" explains Dave. "Go to town once you meet the sustainability criteria. Learn about healthy products then cook and plan events around this philosophy. The possibilities are endless: food, schools, cooking, gardens, and the way to pull all of these together."
In addition to Slow Food, Chef Dave is on the board of the American Culinary Federation (ACF), a local leader for Chefs Collaborative, and partners with the Monterey Bay Aquarium's Seafood Watch Program to help consumers and businesses make mindful choices for healthy oceans. "Chefs Collaborative puts sustainably-raised products on their menus, because by changing menus, we change lives," he reasons. "I attended an ACF summit in New York City this past April at New York University that drew over 300 chefs from around the nation."
He learned there his problems are not unique. "It is difficult to grow crops in Southwest Florida because of our sandy soil and hot wet summers. When I find local produce, I often encounter delivery issues because vendors in-season do not want to wait in traffic for two hours to get to the beach, then another two hours to leave the island; then I speak to an Alaskan chef who has difficult soil with a short growing season and distribution issues because of the huge distances between sparsely-populated isolated villages. I realized I am not alone."
In reviewing his time on the beach, Chef Dave says that "I love what I do every day! Through Slow Food everything comes full-circle and I am once again helping with a food truck. The best part is the collaboration and education; teaching people about the food they put in their system so they know how important healthy meals are to their life. The worst, of course, are those who just do not understand the importance of our mission. They do not appreciate that it is all about product, portion, and pricing; it is not about the most food at the cheapest cost, but the greatest-possible investment in your long-term future. That is the importance of Slow Food Southwest Florida – we are the healthy pulse of our community."
For details on Slow Food Southwest Florida, see slowfoodsouthwestflorida.org; for Jack's Farm to Fork call 239-463-8615 or 855-267-8199, or see www.pinkshell.com. Slow Food Southwest Florida: Good, Clean, and Fair Food for Everyone!