Peace Day in the Park
"Our systems are failing us, our society feels broken. We can see it every day all around us. Violence, bullying and miseducation in our school systems are all on the rise." How can we experience more peace in our daily lives and in the lives of our children? How do we get the kids to educate the parents on what they need, feel and are experiencing?"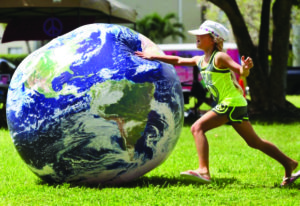 This opening statement, and the key questions we must address, are the basis of a Peace Petition created by Zachari VanDyne, Director of CasaShanti (House of Peace), and Founder of Peace Day in the Park. He provides a valid proposal to begin creating the solution. With tools such as the Peace One Day Education Resource packet, he believes we can begin to educate our children on peaceful methods, right in the schools and feels that, like reading, writing and arithmetic, peace curriculum should be taught as a core subject in all public school systems.
The curriculum, founded by the Peace One Day organization, has been effectively implemented in school systems in Europe. Zachari, our local Peace Day in the Park, and CasaShanti, have come together with local organizations like Pushing Daizies and Blue Crayonz to create change for peace in our communities and school systems. Local mayors from Cape Coral and Ft. Myers are on board with the direction these groups are taking, and have both signed official Proclamations for Peace. "Now", Zachari says, "we are working on the remaining mayors!" Peace Day in the Park is already working with this curriculum in the Lee County Home School Association, and is working to be accepted in the Charter schools. The ultimate goal is to get into all the public schools, and eventually reach schools on a national level.
CasaShanti, located in the historic downtown district in Ft. Myers, is dedicated to be available to our community for workshops, showcasing local artists, and classes like meditation and yoga. Wellness Wednesdays are favorite events for many, with spa services like homemade yummy organic facials, ionic detox footbaths, hand paraffin treatments and reiki energy work. All who enter the door at CasaShanti give a great big sigh of relief as the feeling of peace falls over them!
To update on recent Peace Day in the Park news, the 8th Annual Peace Day in the Park was held on September 20, 2015, in honor of the International Day of Peace, with thousands of people attending to support Peace, and enjoy a day of Peace together as a community. Food donations were stacked high for local food banks, Bloodmobile donors were lined up, and musicians, performers and volunteers worked all day helping people enjoy, relax and share positive peace energy together. Another excerpt from the Peace Petition sums it all up:
"Energy goes where thoughts flow. We are beginning to understand this fundamental reality. Teaching, creating and educating on a culture of peace is the only way to experience a more peace-filled society, and the way to see the results of this culture in our school systems is by focusing on these very principles. Peace is the way!"