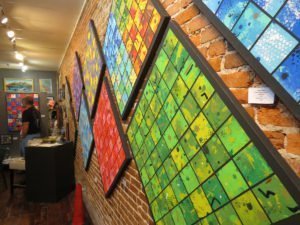 Scott Guelcher is an artist whose unique style of art has become well known in Southwest Florida. This blend of Pop Art Images and abstract backgrounds has attracted galleries to frequently display his artwork. Throughout his rising career as an artist he has received local and international recognition for his artwork.
He has received awards and grants for his art including the 2008 Angels of the Arts Award for Best "New" Artist, 2010 Soaring Eagles Award from the FGCU Alumni Association, being selected as one of ten artists from the State of Florida to attend the Mac: Model for Artists Career Development Workshop in St. Petersburg, Florida, an invitation to a Marketing and Promoting your work workshop in Tequesta, Florida funded by a National Endowment of the arts grant through the Florida Department of Cultural Affairs and run by the Creative Capitol Foundation of New York City (a subsidy of the Andy Warhol Foundation that supports individual artists), and Arts and Culture Grants from the City of Fort Myers in 2008 and 2009.
"I paint random everyday objects that represent one of three themes: People, Places, or Things. My paintings allow the viewer to experience personal meaning which transforms the objects from ordinary to extraordinary." – Scott Guelcher
In addition to being an artist, Scott was the event chair for Art Royale 2008, the signature fundraiser for the Lee County Alliance of the Arts in Fort Myers and currently teaches art at Island Coast High School. Scott is always looking for new opportunities to educate and inspire the community through the arts. He is always trying to give back to the community through philanthropy by donating works of art to charity fundraisers for different causes.
He promoted some global subjects during his span as an artist, specifically a solo exhibition titled "Bikinis and Bombs". This show was about the testing of the hydrogen bomb by the United States government conducted in the Marshall Islands on Bikini Atoll. The show gained local and international recognition. His exhibitions, publications, and collections enrich the talent and education he has achieved. Scott will continue to draw on issues in the local community and global community as the inspiration for his artwork.
Scott Guelcher graduated from Florida Gulf Coast University in 2005 and over the last 10 years, which includes some of his time there, he has created a multitude of different artworks. He had nine solo exhibitions displaying various works from his "People, Places, & Things" series, had two three man shows, and exhibited in over fifty group shows. Over the years, he has created work for other series such as an "Abstract" and "Nature" series along with creating work for multiple charitable organizations. He was chosen to create two pieces of Public art for Florida Gulf Coast University in spring of 2015. They are two statues of the Eagle Mascot Azul, one in baseball uniform and one in graduation attire.
In February of 2016 he will have a new show titled "New Work" opening at the Arts for Act Gallery in Downtown Fort Myers.
Scott Guelcher (GuelcherArt.com) is the artist behind the SWFL Sustainability comic strip Old Henry and can be reached at [email protected].