What is Sustainable Gardening?
"Deana's Garden" Founder Deana Bess Shares Her Passion for Sustainable Gardening
Recently, I read an inspiring New Year's resolution that was written as a prayer. The author's desire was not to ask for a list of things to come to pass but for one thing, in the midst of any challenge, and that was "make it count". I thought to myself, "Yes! No matter what, let it matter that I was here, that I shared good with our world, that the world was better in some tiny way because I was in it." Even if today was only harvesting lemons, juicing them, and canning the juice!
I've been blessed to fall in mad love with plants, specifically plants we can eat. Growing food in a sustainable way is empowering, challenging, rewarding, fascinating, and beautiful. For me, it just doesn't get better than this!
Today, sustainable gardening has become quite popular. I am encouraged to see people are becoming ever more interested in learning to improve our quality of life through healthier living. From those who have never grown a plant to experienced gardeners learning the nuances of our climate, I enjoy each and every encounter as a special opportunity to make it count.
So, what is sustainable gardening?
It is growing plants using nature's resources through crop rotation, plant diversity, composting, cover crops, beneficial insects, lunar cycles, rain collection, companion planting, organic nutrients, and mulching, just to name a few. And you can easily do all those things even in small spaces like a lanai or balcony with container gardening. And if your soil is a problem, you can build raised beds like we did in an area where the ground did not drain well. What if I told you weeds can help build nutrients in the soil and their presence tells us about the health of the soil? Did you know many weeds are even edible? (Walters, 1999). Did you also know when there are devastating pests and disease in a plant, nature is trying to eradicate the plant? The key is to figure out why (Hermary, 2007). Growing sustainably means listening to what nature is telling us and responding in a way that works with nature rather than against it.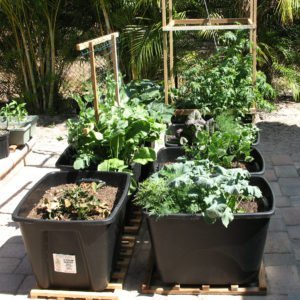 Gardening naturally builds a sense of community and well being; when fellow gardeners meet, we can't help but share our experiences, rejoice in our successes, look for solutions and learn from our failures, and best of all, share plants and seeds. A sense of belonging and self-worth are important to our overall health. In reference to community, Dr. Roberts (2010) wrote, "Oak trees in Florida remain standing through a hurricane because their roots are intertwined under the earth. (p. 134)." Those of us seeking a more healthy and sustainable lifestyle are intertwined and the few that stood for many years are growing in number. On my acre of space, a tiny spot among 35 billion plus acres that make up our planet, I'm able to make healthy changes every day for the earth and my family. Imagine what we can do as a community!
Here in Southwest Florida, we can grow 12 months out of the year; while we may not have perfect success all year with the traditional foods we are accustomed to, tropical fruits and vegetables grow here abundantly. Learning to grow new foods and eating more of what is in season gives our diets diversity and for me has been a healthy and satisfying adventure. Yet, I still love my cucumbers and greens so I maintain an aeroponic (much like hydroponics) garden for that.
Maybe you want to learn more about growing your own food or you already do but you want to learn more from other gardeners; now is the perfect time to start. Visit me on Facebook at In the Garden with Deana or read my blog at DeanasGarden.com.
References
Hermary, H. (2007). Working with Nature: Shifting Paradigms. Gaia College, Inc. Canada.
Roberts, C. L. (2010). Good Medicine: A Return to Common Sense. Mercurius Press, USA.
Walters, C. (1999). Weeds: Control without Poisons. Acres U.S.A, Austin, TX.